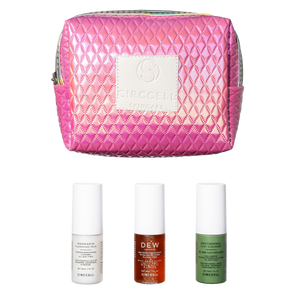 CLEANSING FACIAL ON-THE-GO
This foundation to any skin care routine cleanses and primes the skin for optimum effectiveness of any regimen. For all skin types.
Geothermal Clay Cleanser | 30 ml
Our detoxifying Geothermal Clay Cleanser for day uses the power of negatively charged ions to remove impurities released during the body's night time healing process. A cocktail of oils maintains the skin's moisture mantle. Uplifting spearmint, basil and elemis awaken the spirit for the perfect beginning to any day. This versatile cleanser doubles as a clay mask.

Mandarin Cleansing Milk | 30 ml
Our deeply cleansing and brightening Mandarin Cleansing Milk for night uses natural citrus oils to break through makeup, oil and the day's debris (even good for removing eye make-up) without stripping the skin. This milky cleanser, originally created for professional use, uses the power of citrus essential oils and licorice root to brighten, vitamin E and C for anti-aging support and seaweed extract to nourish and support acne control. The citrus scent calms the senses to prepare the mind and body for evening relaxation.

Dew Perfector | 30 ml
This perfect primer for day and night pH balances the skin. Amino acids nourish. Witch hazel and aloe soothe. Lactic acid gently resurfaces without flaking and pulls moisture into the skin for powerful hydration. Camphor controls oil and provides acne support. Leaves the skin with a plump, dewy, après ski finish.
The Minimalist
 Daytime
Detoxifying Geo Cleanser followed by Dew pH Perfector
 Nighttime
Hard working, dirt busting, brightening Mandarin Cleansing Milk followed by Dew pH Perfector
 The Maximalist
 Day and Night Double Cleanse and Treatment
Begin with Mandarin Cleansing Milk
Follow with Geo Cleanser
Finish with Dew
 The Junkie – our full blown cleansing facial
Day and Night Double cleanse/mask/treatment/spot treat
Begin with Mandarin Cleansing Milk
Follow with Geo Cleanser.  Leave cleanser on as a detoxifying mask for ten minutes
Press Dew into face, neck, décolleté and apply anywhere on the body that has rough crepey skin
Spot treat blemishes with Geo Cleanser
Regular price
$50.00
$0.00
Unit price
per
Expert Tips
Skin in need of a deeper detox? Apply our Geothermal Clay Cleanser as a mask, leaving on for 10-15 minutes to further draw out impurities.
Use the Geothermal Clay Cleanser in the morning and experience the invigorating sensation of the fresh spearmint scent.
Originally created for professionals (estheticians) Mandarin Cleansing Milk is hardworking, brightening and hydrating. For make-up wearers we suggest using it as part of your evening cleansing routine.
Dew pH Perfector is a multi-tasker that is also fantastic for improving the appearance of crepey skin on areas such as knees and elbows.
Product Details
Performance
Detoxifies
Cleans Deeply
Hydrates
Reduces Discoloration
Balances Oil Production
Evens Tone
Minimizes Pores
Key Ingredients
Geothermal Arctic Clay

detoxifying

Meadowfoam Seed Oil

maintains skin's moisture barrier during cleansing

Chilean Soap Bark

provides gentle cleansing

Almond Oil

dislodges debris from pores, rich in vitamin A

Spearmint

antioxidant, antiseptic

Basil

anti-bacterial

Mandarin Extract

uplifting, exfoliating, astringent

Grapefruit Extract

uplifting, exfoliating, astringent

Orange Extract

uplifting, exfoliating, astringent

Licorice Root

reduces the appearance of dark spots and undereye circles

Vitamin C

antioxidant protection, brightening, rejuvenating

Aloe Vera

soothing

Panthenol

hydrating, soothing, reduces redness

Amio Acid Complex

nourishing

Lactic Acid

gentle exfoliator, hydrates

Camphor

anti-redness

Witch Hazel

natural form of salicylic acid, reduces the appearance of acne

Arnica

calming
Attributes
Vegan

Not Tested On Animals

Made In America

No Parabens

Phenoxyethanol Free

No Pthalates

Normal Skin

Sensitive Skin

Dry Skin

Oily Skin

Helps With Hyperpigmentation

Helps With Acne
Instructions
Begin with Mandarin Cleansing Milk
For All Skin Types: Massage a quarter-size amount into the skin with water to remove all makeup (including eye makeup) and debris. Rinse off completely.
Next use our Geothermal Clay Cleanser
For All Skin Types: Massage a quarter-size amount with water onto skin. May be left on for up to fifteen minutes as a detoxifying clay mask. Rinse off completely with water.
Finish with our Dew Perfector
For All Skin Types: Spread a nickel size amount across the palms of hands and press into face, neck and decollete.